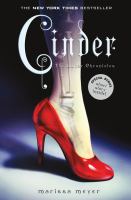 Book Review Written By:
Jessica I. 
Cinder
By Marissa Meyer, 2013
Young Adult, Science Fiction, Dystopian, Fantasy
In this retelling of the classic Cinderella, Linh Cinder is a cyborg, which means that she is a mix of both human and robot. Set in the future and in New Beijing, Cinder works as a mechanic with an unknown past. One day, Prince Kai, heir to the throne, asks her to fix his android. From that moment on, everything changes for her. She falls in love; she becomes wanted (and in some cases) needed by others for both good and bad reasons; she discovers her own well-hidden secrets. Cinder has something that others want, something others would kill for.
I loved Cinder! At first I thought I wouldn't like it because it was science fiction, but I loved it! Cinderella is a cyborg? Isn't that intriguing enough? It was filled with villains that make you just want to stick your hand in the book and personally strangle them. The characters are very well developed. Many are funny and lovable. There are so many plot twists and action so it will never bore you. Some parts left me gasping and wanting more (especially the end). The romance is sweet. It wasn't sappy and so many parts make you say, "Just kiss already!" Cinder was very interesting and engaging.
There were only a few things I didn't like about Cinder. At first, I felt that there were too many female characters so it was sort of hard to keep track of all of them. However, you quickly get the hang of it. The second thing I didn't like about it was that it was some parts were predictable. Yes, there were many plot twists but some of those twists you saw coming a mile away.
Cinder actually reminds me a lot of Divergent by Veronica Roth. Both had independent, feisty heroines as their main characters. In both, the villain was another female who manipulated others so they could take over their regions. There are actually many similarities. If you liked that book, definitely read this book.
I recommend Cinder to anyone twelve and up. Even as an adult, you may even like this book also. This is a book that I would definitely read again… and again. I give this book nine and a half stars out of ten. Check Cinder by Marissa Meyer out at any of the Solano County Library branches and then review it yourself!