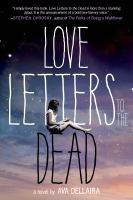 Book Review Written By:
Jessica I. 
Love Letters to the Dead
By Ava Dellaira, 2014
Realistic Fiction, Young Adult
Love Letters to the Dead, written by Ava Dellaira, is about a girl named Laurel who is writing letters to people who have died such as Amelia Earhart, River Phoenix, and many more. It starts off as an English assignment but grows into much more than that. She writes about what's happening in her life such as how to be brave, her new friends, and falling in love; all while mourning over her sister's death. As she writes these letters, she learns to be more open to others rather than shutting people out. Laurel discovers herself.
I found Love Letters to the Dead very poetic. It was filled with lines and phrases that a teenage girl would put on her bedroom wall (for the record, that is actually what I did). It was also filled with characters that were both lively and colorful. It has lots of emotion so when the main character mourns, you mourn. Some parts were so strong that I personally gasped at what happened. It wasn't like one of those classic happy-ending fairy tales. This book touches your heart.
At times, Love Letters to the Dead was boring. In the beginning, it is kind of slow but it soon picks up speed. There is also quite a lot of suspense because Laurel never reveals how May died until the end. Every time she does, she cuts herself off. The only time that she fully talks about it is towards the end. There are a lot of secrets in this book. I also found it rather hard to keep track of all the characters because there are so many and sometimes they have nicknames. For instance, one character named Sky was called Sky all throughout the book up until the end when his mother said Skylar. It confuses you enough to think, "Wait, who is she talking about again?"
This book reminded me a lot of another book called The Perks of Being a Wallflower. In both books, it is narrated by a character that is a freshman at a new school and is going through something that scarred them for life. If you like that book, I would recommend this book because they are very similar to each other.
I would recommend this book to anyone in 8th grade and above because there are quite some intense scenes and also some dirty scenes. There is also some cuss words involved. Overall I think that this book is a book that you would read once, but not twice. But don't just take my word for it! Rent Love Letters to the Dead by Ava Dellaira at any Solano County library and read it yourself.