A New Generation of Jazz
03/29/2017
Vanity Fair presents
Behind the Scenes of Mark Seliger's "Jazz on the Loose" Photo Shoot
Jazz's freshest faces explain that their art form is all about taking risks, making people dance,
and that oh-so-important element of surprise.
Watch this video on The Scene.
Fresh Voices of Jazz @ Your Library
Aaron Diehl - The Bespoke Man's Narrative
Class. Sophistication. Elegance. The title of this inaugural release by Aaron Diehl on Mack Avenue brings such words to mind. The music befits refinement too, through five originals and five arrangements. The dominant model here is the Modern Jazz Quartet, an interplay of American jazz and European classical styling. Not yet 30, Diehl is already a virtuoso upon whom no major style of jazz is lost. However, the quality that makes this recording more than a leader's showcase is Diehl's dedication to the value of the ensemble.
Ce´cile McLorin Salvant - Womanchild
Salvant has the technical ability, lyrical sense, and undeniable charisma to sustain a career that could undoubtedly match those of her idols -- who include Billie Holiday, Sarah Vaughan, and Ella Fitzgerald. And while the distinctive influence of all three of these singers is evident here, with "WomanChild" Salvant reveals herself to be a genuinely original vocalist with a distinctive timbre, a singer steeped in tradition but with a style and phrasing all her own. she's backed here by an all-star rhythm section of Lincoln Center Jazz Orchestra regulars, including pianist Aaron Diehl, bassist Rodney Whitaker, guitarist James Chirillo, and drummer Herlin Riley.
Dominick Farinacci - Dawn of Goodbye
Farinacci forms the program around standards and a few originals and, while the cover presents a noirish image befitting a Chet Baker-wannabe, he isn't indebted to any single influence, sound or style. His trumpet can be breathy with a vocal-like quality ("Lover Man"), bluesy with a raunchy edge ("Dom's Blues" and "Willow Weep For Me"), or sly and seductive ("I Concentrate On You"). Some of his standards are gleaming with a coat of percussive wax on their underbelly ("You Don't Know What Love Is"), while others shine because of the arrangement ("It's Alright With Me"), but all of these well-worn pieces, regardless of their individually distinguishable attributes, sound like they're cut from a similar sonic cloth.
Esperanza Spalding - Chamber Music Society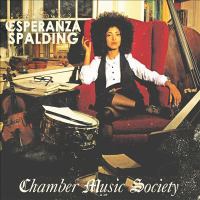 Spalding has assembled an intriguing collection of tunes accompanied by stellar backing musicians -- drummer Terri Lynne Carrington, pianist Leonardo Genovese, and percussionist Quintino Cinalli with a pair of string players -- and guests that reveal her exquisite taste in both compositions and arrangements (the latter with intermittent help from Gil Goldstein). The album walks the line between modern jazz and adult contemporary R&B. Nascimento's trademark baritone is allowed considerable improvisational freedom that features his otherworldly falsetto. Gretchen Parlato also appears with wordless singing on "Knowledge of Good and Evil." Spalding's arrangement of Dimitri Tiomkin's and Ned Washington's classic "Wild Is the Wind" features David Eggar guesting on cello and Genovese playing melodica, and combines jazz, tango, and classic pop.
Gretchen Parlato - The lost and found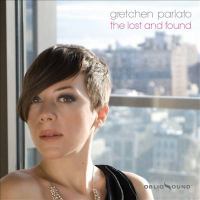 Gretchen Parlato has cut a different path than singers who stick to time-tested standards and familiar jazz works. Her third CD is a wide-ranging affair, featuring singer/songwriter pop ballads, post-bop, her own originals, and works by her supporting musicians adding her lyrics. Her core band consists of keyboardist Taylor Eigsti, bassist Derrick Hodge, and drummer Kendrick Scott, with tenor saxophonist Dayna Stephens added on several tracks. Parlato's interpretations of pieces by several rising stars from her generation are impressive, including the whispering treatment of Ambrose Akinmusire's "Henya," along with pieces by Eigsti and Stephens. She demonstrates her versatility in her breezy interpretation of the samba "Alô, Alô," and penned both the music and lyric to the driving post-bop vehicle "Winter Wind." Jazz fans will find a lot of treasures to discover within "The Lost and Found."
Joey Alexander - My Favorite Things
The debut album from jazz piano prodigy Joey Alexander, 2015's "My Favorite Things" showcases the 11-year-old's stunning keyboard virtuosity. Joining Alexander here is a mix of older and younger associates, including journeyman bassist Larry Grenadier and drummer Ulysses Owens, Jr. Also backing Alexander on various tracks are bassist Russell Hall, drummer Sammy Miller, and up-and-coming firebrand trumpeter Alphonso Horne. Working with Grammy-winning producer Jason Olaine, who previously helmed albums by such jazz luminaries as Roy Hargrove, Chris Potter, Kurt Rosenwinkel, and others, Alexander delivers a handful of jazz standards and songs culled from the American Popular Songbook in adroit, acoustic, swinging fashion.
Afrodeezia is bassist Marcus Miller's debut for Blue Note Records. Produced by the artist, the 11-track set features his core band -- saxophonist Alex Han, trumpeter Lee Hogans, pianist Brett Williams, guitarist Adam Agati, and drummer Louis Cato -- with an international list of guests. The music was inspired by Miller's work as a UNESCO artist for peace, and as a spokesperson for the Slave Route project. Afrodeezia is a masterful contemporary reflection of transcontinental rhythms and melodies that have migrated through the bodies and spirits of African slaves as they were transported to South America, the Caribbean, and the United States before refracting back across the globe in the contemporary era through jazz, R&B, and hip-hop. Afrodeezia reveals in a sophisticated, exceptionally ambitious manner the labyrinthine interconnectedness of earlier sounds and rhythms -- which emerged from bondage and horrific suffering -- to new ones that bring the world joy.
Troy "Trombone Shorty" Andrews - For True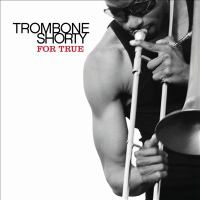 New Orleans' Troy "Trombone Shorty" Andrews knows the music biz inside out. He took his time, assembling, rehearsing, and touring Orleans Avenue, a band steeped in brass band history, jazz improv, funk, soul, rock, and hip hop. In addition to trombone, Shorty plays trumpet, organ, piano, drums, synths, and, of course, sings. Orleans Avenue colors the rest. They are tighter, even more confident, and perhaps even more adventurous here. Though Shorty handles some tracks playing all the instruments himself, or with a guest or two. The Rebirth Brass Band guest and play a big funky horn chart as Shorty's big trombone solo greases the skids. NOLA's Weebie chants in tandem with the break-heavy rhythm track. "Encore" (written with Motown's Lamont Dozier) showcases some of Shorty's B-3 and soulful vocal skills, as Warren Haynes lends his trademark guitar sound.